Deadbeef is a lightweight, yet very capable music player with no GNOME, KDE, or gstreamer dependencies.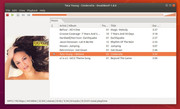 After almost three years, there is now a new 1.8.0 release, and it's in the test repo. It was built on vanilla Stretch, so can move to main without any problems.
Some of the improvements include:
add proper tracks+cue support
add/improve MP4 tag reading and writing
load embedded album art from MP4 files
add File Copy and File Move converter presets
add GBS, SGC support to Game_Music_Emu
improve detecting GTK theme colors for custom widgets
add Copy & Paste in playlist
add localization support for plugin UI
add Drag'n'drop support from deadbeef to other applications
add --volume command line option
and many more. The full list can be seen
here.
Please let us know how it installs and performs if you try it out, so we can move it to main. Thanks!