We now have a major new release of the famous and popular video ripper and transcoder, Handbrake 1.1.0, in our test repository. This was adapted from the deb-multimedia version with some changes to make it fit Debian's build policy. One DMO change is that "handbrake" is now a metapackage that depends on either handbrake-cli or handbrake-gtk. The GUI version will be installed by default, but you can have both, or just the CLI version if you wish. The previous handbrake package was the gtk GUI version.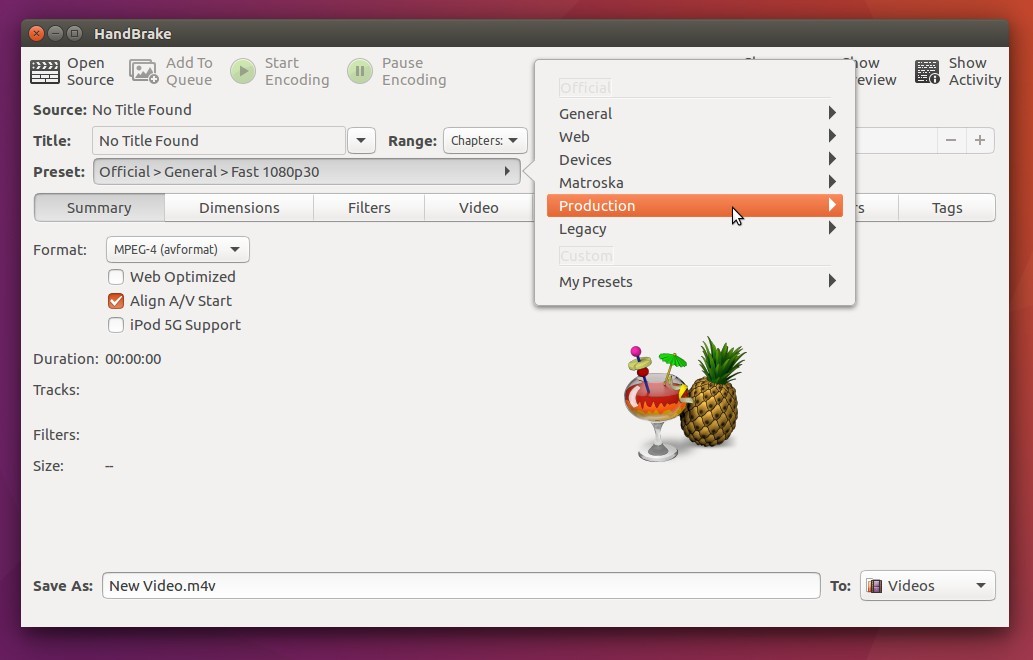 From the release notes:
All platforms
General

Improved user interface
Redesigned main window for consistency and usability; overall flow is top to bottom, left to right
Added new preset controls directly in main workflow
Added new summary tab for overview of settings at a glance
Updated interface icons to support high resolution displays
New and improved official presets
Added new presets for Vimeo and YouTube
Added new 2160p/4K device presets for Apple TV, Chromecast, Fire TV, and Roku
Added new Production presets for post-production video editing workflows
Added additional 2160p/4K Matroska presets
Improved AppleTV 4K support
Improved Intel QuickSync Video support
Added Linux support (experimental)
Added 10-bit H.265/HEVC encoding support for Kaby Lake and newer CPUs
Added support for multiple GPUs via D3D11 encode path
Many bug fixes and improvements

Video

Added new Unsharp and kernel-based Laplacian LapSharp sharpening filters
Added CSM prefilter option to NLMeans filter
Added support for mobile device orientation via auto-rotation container flag
x265 10- and 12-bit encoders are now included by default; additional dll files are no longer required

Command line interface

Added support for adaptive streaming (SPS and PPS before IDR frames) via the --inline-parameter-sets parameter
Added --json parameter to output scan/status information in JSON format, useful for scripting
Audio sample rate parameter --arate now accepts "auto" as a valid value

Linux

Added option to configure low disk space warning level
Added Intel QuickSync Video encoder (experimental, requires specific Intel driver)
Added support for Ubuntu 18.04 and 17.10; Ubuntu 15.04 support is removed
Many other bug fixes and improvements
Please let us know how it installs and performs if you give it a try. Thanks!